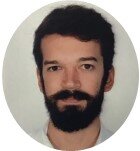 Research project: Upscaling of lead compounds from WP1 and enanthioselective synthesis of the serine protease inhibitor UAMC-00050.
Host organisation: Latvian Institute of Organic Synthesis (LIOS), Latvia
Supervisor: Prof Aigars JIRGENSONS; Dr Kirill SHUBIN
Brief biography: Hi, I'm Davide, I was born the 26th August of 1993 at Arzignano, a town in the north of Italy. Since I was a child, I was always fascinated by all the kind of science, because of my curiosity and all my questions about the word that surrounds me. So at 14 years old, I chose to study chemistry in a technical high school, and I like so much that I decided to continue to study chemistry also in 2012 when I moved to Padua to start the university. Among all subjects, I really appreciated organic chemistry and I like to help people this two quality bring me close to the medicinal chemistry. My experience in this field starts with my Erasmus at the Göttlich lab. by the Justus Liebig University (Gießen, DE) where I worked on the synthesis of urolithins as inhibitors of Casein Kinase 2 and continue with my master thesis, carry out at the pharmaceutical company Fidia farmaceutici S.p.A. (Abano Terme, IT), where I synthesized and tested a series of peptides as inhibitors of the Metalloprotease 3 that is involved in osteoarthritis. After completing my master's degree in industrial chemistry, I worked in the same pharmaceutical company here in Italy where, with the preindustrial development group, I followed the production and the downstream process of the synthesis of hyaluronic acid, working with the pilot plant to scale up a new process to the industrial plant.