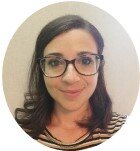 Research project: Implementation of in vivo models to identify potential candidates for DED treatment.
Host organisation: University of Antwerp (UA), Belgium
Supervisor: Prof Dr Paul COS
Brief biography: I obtained my Doctor of Veterinary Medicine degree in Italy, at the University of Perugia with my Master of Science Thesis: "Unusual abortigenic agents in dogs and cats: Coxiella burnetii and Leptospira spp.", under the supervision of Prof. Maria Luisa Marenzoni and Dr. Valentina Stefanetti. Then I worked at University of Cambridge as a trainee with the Erasmus + Traineeship programme under the supervision of Professor Jonathan Heeney and Dr David Sargan, where I joined the Emerging Viral Vaccine Antigen Insert Consortium (EVAC) and the Brachycephalic Obstructive Airway Syndrome projects.