On Wednesday 2 April 2014, the University of Antwerp conferred its honorary doctorates. Four leading international researchers claimed the title of Doctor Honoris Causa of the University of Antwerp. Two honorary degrees for general merit were also presented.
Scientific merit
The honorary degrees for scientific merit were conferred upon four leading international researchers: Professors Rebecca M. Blank, Sir Paul Collier, Sandra Hale and Haruo Sugiyama.
Prof Rebecca Blank


Professor Rebecca Blank was nominated by the Faculty of Political and Social Sciences, and more specifically by her honorary supervisor, Professor Ive Marx. Blank is Chancellor of the University of Wisconsin-Madison (USA). As a renowned scientist in the field of poverty and social policy research, she transferred to the White House to work at policy level under Presidents Clinton and Obama.

Laudatio: Prof Ive Marx
Prof Paul Collier


Professor Paul Collier, a professor at the University of Oxford (UK), received an honorary doctorate from the Faculty of Applied Economics. Collier is a specialist in African economies, though his work also addresses other important global issues such as the effects of development aid and problems with democracy in low-income countries.

Laudatio: Prof Walter Nonneman
Prof Sandra Hale


The Faculty of Arts honoured Professor Sandra Hale, a professor at the University of New South Wales (Australia). In a relatively short time, Hale has become a world authority in the field of community interpretation, particularly with regard to social and legal interpretation.

Laudatio: Prof Aline Remael
Prof Haruo Sugiyama


The Faculty of Medicine and Health Sciences conferred an honorary doctorate on Professor Haruo Sugiyama, a professor at Osaka University's Graduate School of Medicine (Japan). Sugiyama has made an important, innovative, far-reaching contribution to the treatment of cancer and is now one of the world's major pioneers in this field.

Laudatio: Prof Zwi Berneman
General merit
The University of Antwerp also confers one or more honorary degrees for general merit. This year, the honour is gone to theatre and opera directors Ivo Van Hove and Guy Cassiers. Both have recently produced arrangements of Wagner's Der Ring des Nibelungen, but this appears to be nothing more than a happy coincidence.

Laudatio: Prof Alain Verschoren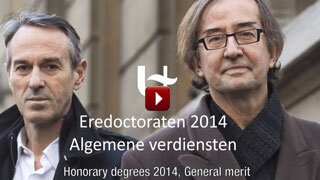 Guy Cassiers


Guy Cassiers is one of the frontrunners of European theatre.

He is known for his sophisticated multimedia theatre, which manifests itself as a refined choreography of theatre, video, visual art and literature. His performances explore the interaction between numerous media and the effect that this interaction has on the senses of the viewer.

His quirky style has been widely praised both in Belgium and abroad. Cassiers is also artistic director at Toneelhuis Antwerp.
Ivo Van Hove


Ivo Van Hove is an innovative, multi-faceted and internationally oriented theatre maker.

In addition to being a producer, he is also a director, programmer and instructor. His theatre is characterised by the tearing down of walls – between text and technology, reason and emotion, innovation and tradition. Van Hove refuses to be limited by boundaries and colours outside of the lines geographically.

He has presented his work at international venues and has worked with German, American, Dutch and Belgian actors.