Symposium Storyworld Possible Selves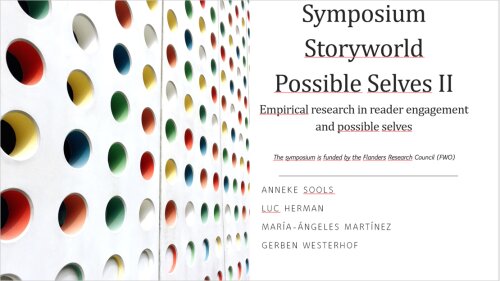 Monday 31 October & Tuesday 1 November 2022

Location: U-Park Hotel, Enschede, the Netherlands
This two-day symposium about Storyworld Possible Selves (SPSs) builds on and extends the first SPS symposium organized by the Universidad de Alcalá (Madrid) in 2021, by focusing on the possibilities and obstacles in conducting empirical SPS research. SPSs are the mental representations of the self which engaged narrative experiencers – readers, cinema-goers, TV audiences, videogame players - project into their situational model of the fictional world, or storyworld. The SPS construct derives its analytical and explanatory power from the interdisciplinary foundations of storyworld possible selves, which crucially include a) blending theory in cognitive studies (Fauconnier and Turner 2002; Turner 2007, 2014), b) self-schema theory in social psychology (Markus 1977; Markus and Nurius 1986; Dunkel and Kerpelman 2006); and c) the cognitive linguistics concepts of intersubjective cognitive coordination (Verhagen 2005, 2007) and construal (Langacker 2008). The symposium combines 4 talks by experts in empirical research relevant to SPSs, with 2 workshops about the analysis and design of SPS research.
The workshop is intended for senior and junior researchers with an interest in narrative at large, and, more specifically, in issues connected to narrative engagement, cognitive narratology, cognitive linguistics, narrative psychology, communication studies, and reader response research. Registration is free, please visit the website of the event to register.
Related project: This Is Who I Could Be: Storyworld Possible Selves and Fictionality | Luc Herman & Melina Ghassemi Nejad​
Francqui Chair - William Marx

CHR2022 - Third Conference on Computational Humanities Research
12-14 December 2022
The Computational Humanities Research (CHR) community is an international and interdisciplinary community that supports researchers with an interest in computational approaches to the humanities.
The 2022 edition of the Computational Humanities Research conference will be hosted by the University of Antwerp, Belgium. The conference will be a hybrid event with an option to attend in person at the beautiful Monastery of the Grauwzusters in Antwerp, virtually, or a combination of the two. Check the Call for Papers!