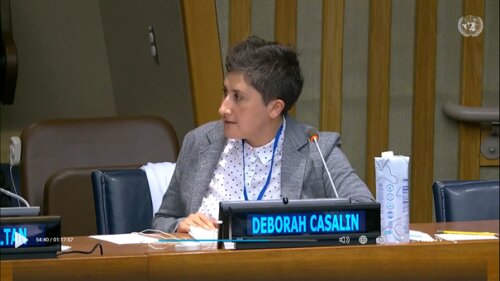 On 9 September 2022, Dr Deborah Casalin, principal research fellow at the Law & Development Research Group, addressed the first UN Global Congress of Victims of Terrorism in New York on the invitation of the UN Office of Counter-Terrorism.
Dr Casalin highlighted the situation of people displaced by acts of terror of non-state groups, particularly in armed conflict contexts. In relation to some of the particular challenges these victims face, she emphasized key international legal obligations on protection, assistance and non-refoulement, as well as avenues to ensure broader realization of displaced victims' rights. She stressed the need for international cooperation to make a range of durable solutions available - including for repatriated victims, for whom frameworks on internal displacement may remain relevant.
The first UN Global Congress of Victims of Terrorism provided "a platform for victims of terrorism to directly share experiences, challenges, stories of their resilience, and contributions to wider society in a socially connected environment and to advocate for the strengthening and upholding of their rights and effective fulfilment of their needs." As the world's largest and most diverse gathering bringing together victims of terrorism, UN Member States, stakeholders and experts, the congress was a milestone in advancing a victim-centric approach in this area and centring victims' calls for support and justice. The next biannual follow-up conference will be held in Spain in 2024.
Dr Casalin's intervention can be viewed at: https://media.un.org/en/asset/k1e/k1ell440bt