Characterization of molecular interactions at the UAntwerp Biomolecular Interaction Platform
Molecular interactions lie at the basis of chemical and biological processes and applications in various fields such as medicine, agriculture, biotechnology and biosensing. The UAntwerp Biomolecular Interaction Platform houses several complementary state-of-the-art methodologies that allow the verification and in-depth characterization of these interactions at different throughput scales, with binding partners ranging from small molecules over protein complexes to subcellular entities.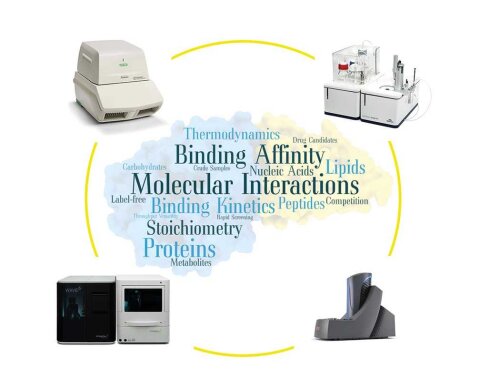 Situation before
Molecular interaction studies are crucial in research fields as diverse as human and animal drug discovery, diagnostics, biotechnology, biosensing, material science and nanotechnology. The verification and accurate characterization of some of these interactions is often challenging and technically complex, requiring specialized equipment and know-how. Because of this, verification of binding affinity and specificity is often lacking in research programs, potentially leading to false conclusions. Also, for assessing the practical applicability of lead molecules in development programs, the accurate analysis of binding aspects is of high importance.
Technology
The combined methodologies present at the UA Biomolecular Interaction Platform allow the analysis of diverse binding characteristics at different throughput-scales, ranging from small molecules (<200 Da) to subcellular entities.
The core of the platform consists of Isothermal Titration Calorimetry (ITC, Peaq-ITC, Malvern Pananalytical) and Grating Coupled Interferometry (GCI, Creoptix WAVEdelta), for precise characterization of the binding affinity (KD). In addition, ITC allows in solution, label-free and non-destructive analysis of stoichiometry (N) and provides thermodynamic information related to the binding event under study (ΔG, ΔH and ΔS). GCI uses a methodology analogous to SPR or BLI for the quantification of kinetic binding aspects (kon and koff). Because of its high sensitivity and robustness, GCI allows the analysis of small molecules and crude samples. Besides ITC and GCI, we also house Protein Thermal Shift (aka Thermofluor) and as core-partners in the UAntwerp Meso Scale Discovery (MSD) technology, we also have ready access to MSD equipment, for both rapid screening and characterizing interactions.
Partners we search for
Our platform is available for collaborations with both academic and industrial partners. These can be life science-oriented in fields such as drug discovery, diagnostics and biotechnology as well as chemistry and (nano)technology entities. Depending on the project set-up, both fee-for-service projects and scientific collaboration-centered agreements are possible.
About the researchers/research group
The Laboratory of Medical Biochemistry (spokesperson: Prof. dr. Ingrid De Meester) studies the structure-function relationship of proteins with a medical relevance in human pathologies. Its main expertise lies in protein biochemistry, ranging from protein production, functional and cellular assays towards protein biophysics and crystallography-based structure determination. As an all-round biochemistry group, general experience with other molecule types (e.g., small molecules, peptides, nucleic acids, liposome-packed lipids) is also present, notably in the context of molecular interaction tools.
More information
More detailed information on the UAntwerp Biomolecular Interaction Platform can be found on our website:
www.uantwerpen.be/en/research-groups/medical-biochemistry/expertise-and-collaboration/molecularinteractionservice/
Contact information:
​dr. Pieter Van Wielendaele, coordinator of the Biomolecular Interaction Platform
University of Antwerp

Valorisation Office
Middelheimlaan 1
2020 Antwerpen - Belgium
Phone: +32 3 265 87 36