Lecture by Gabrielle Moser and screening Aphasia, a film by Jelena Jureša

DATE: 24 January 2020, 19:00 (lecture), 20:30 (film)
VENUE:CINEMATEK, Rue Baron Horta 9, 1000 Bruxelles
Art historian and curator Gabrielle Moser (Canada) and artist Jelena Jureša (Yugoslavia) focus on the role of (colonial) photography and film in the construction and concealment of colonial ideas. By revisiting photographic archives, they both show the ambiguity in their histories and performative power in the present.
Magic Lanterns and Colonial Instruction: Spaces of Civic Education in the British Empire: Between 1902 and 1945 the British government's Colonial Office Visual Instruction Committee (COVIC) distributed a series of lantern slide lectures around the British Empire. From Canada to Hong Kong, and the West Indies to Australia, the lectures were shown to school children to teach them what it meant to look - and to feel - like a citizen of the Empire. During this lecture, Gabrielle Moser will examine how the magic lantern played a central role in creating ideas of citizenship of the British Empire. She will discuss how it was possible for citizenship to become a photographable and teachable subject and how, in turn, spectators used the COVIC photographs for protest and resistance.
Gabrielle Moser is a writer, educator and independent curator whose research focuses on the historical construction of citizenship as a photographable subject. Her dissertation investigates the construction of imperial citizenship in photographs produced by the Colonial Office Visual Instruction Committee. Her current research project, "Picturing race and citizenship: photography and belonging in Canada, 1900-1948," based at the University of British Columbia and supported by a SSHRC postdoctoral fellowship, investigates how racialized subjects used their encounter with the camera to make claims for citizenship in Canada, before its legal enactment in 1948. Moser holds a PhD in art history and visual culture from York University and teaches at OCAD University.
Aphasia is a film built up in three interwoven chapters. Each part focuses on the absurdity that arises from the collective silence surrounding crimes and the fragmentation of historical events, tracing the line between Belgian colonialism, Austrian antisemitism and the war in Yugoslavia. Focusing on the blind spots of history and the difficulty of speaking about the troubled past, the film charts the line starting with the museum dioramas in Tervuren through photography to film and, like the bullet from the FN Herstal 1910 pistol that became emblematic of the WWI, connects Bosnia, Serbia, Austria and Belgium in their seemingly disparate fates and historical amnesias.
Jelena Jureša is a visual artist born in Novi Sad (Yugoslavia) who lives and works in Ghent. She has been extensively working with the questions of identity, politics of memory and oblivion through the media of photography, video and text. Being an artist who works with history and with archives, Jureša investigates the notion of truth on the verge of representation, hence combining private memories with artifacts and political and historical narratives.
Monthly seminar by Gabrielle Moser 15h00 - 17h00
Lecture by Gabrielle Moser 19h00 - 20h00
Introduction + screening Aphasia by Jelena Jureša 20h30 - 22h30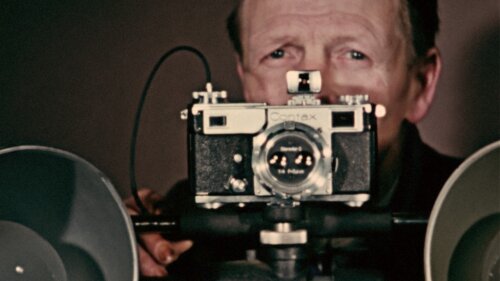 © Aphasia, Jelena Jureša