DATE: 5-6 April 2019
The meeting will start on Friday, 5 April, at 14:00 and finish on Saturday, 6 April, with a media archaeology market and book fair from 14:00 until 17:00.
VENUE: Cinematek, Rue Baron Horta 9, and Greylight Projects, Rue Brialmont 11, Brussels.
Entrance:
The Symposium, Research Seminar and the two "Frankenstein Phantasmagoria" performances are fully booked.
You can still visit the Exhibition "Blackout", Book Launches, Film Screening "Divinations" and the Media Archaeology Book Fair. For these parts of the program, no reservation is needed.
"Lanterns at the fairground" is a dazzling two-day event full of exciting magic lantern research, activities and experiences! This B-magic event, hosted by Cinematek and Greylight Projects, features scientific presentations, lantern demonstrations, a workshop, an exhibition, a phantasmagoria show, book launches, a film screening, a media archaeology market and many more! Download here the full programme and discover parts of the programme below. Download here the practicalities document.
Symposium : "Lanterns at the Fairground"
DATE: 5 April 2019, 14:00 - 18:00 and 6 April 2019, 10:00-13:00
VENUE: Cinematek, Rue Baron Horta 9, Brussels
Entrance: fully booked
This symposium will explore the role of the magic lantern in travelling fairground entertainments and performances. Sessions will provide a varied presentation of new historical research on fairground culture and popular magic lantern attractions, such as ghosts, monsters, dinosaurs, volcanoes, luminous fountains, erotic entertainment etc., matched by interventions by Magic Lantern Society members showing the 'real deal' through the projection of lantern slides. With keynote lectures by Vanessa Toulmin, David Jones, Jeremy Brooker and Guido Convents and lantern demonstrations by Karin Bienek and Ludwig Vogl-Bienek, Bernd Scholtze and Helmut Waelde.
Research seminar: "Experimental Media-Archaeology and Digital Edition: Two complementary approaches to surviving lantern slides"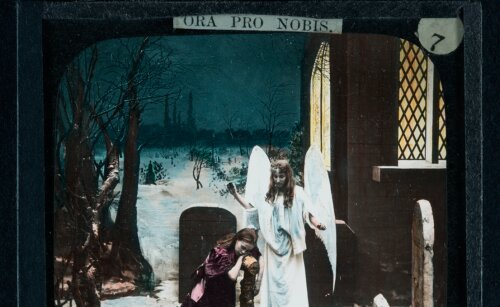 DATE: 5 April 2019, 10:00 - 12:00
VENUE: Cinematek, Rue Baron Horta 9, Brussels
Entrance: fully booked
In this seminar Karin Bienek and Ludwig Vogl-Bienek will present lantern slides on a light box to focus on the conditions for examination. They will then introduce the key features of the eLaterna research platform for creating and publishing digital editions of lantern slide sets (part of the historical art of projection) as tools to make the surviving artefacts permanently available for research. The examination tools of eLaterna show the glass slides as material objects for investigation and enable the comparison with other lantern slides. The digital content can then be accessed together with all the relevant metadata. Physical details are documented by photographs and video. To explore the function of magic lantern slides in performance events, we present the dispositif of the art of projection as the conceptual basis of experimental systems. We are going to describe how in experimental approaches, surviving technical objects and material artefacts themselves emerge as epistemic things that contain the (tacit) knowledge of their use in performances. Afterwards, the participants are invited to a short hands-on session with historical toy lanterns and glass slides.
This workshop is organized in the framework of the monthly B-magic PhD seminar and is open to everyone interested. See our agenda below for an overview of the other upcoming PhD seminars.
Exhibition: "Blackout"
DATE: Opening 5 April 2019, 18:30-20:30 | 5-14 April 2019, Thursday until Sunday, 11:00-18:00
VENUE: Greylight Projects, Rue Brialmont 11, Brussels
Entrance is free, no reservation needed
"Blackout", exhibited at Greylight Projects, an independent artist run organization housed in a former cloister, foregrounds works that explore history and memory from a personal perspective through the carousel slide projector. Now considered obsolete, the slide projector has come to evoke the past. No longer produced since 2004, the Kodak carousel slide projector has still been used by contemporary artists around the world for the past 15 years. The narrative of media history is often linked to technological progress, but the continued artistic use of an apparatus long after its industrial demise challenges this story. Featuring works by international artists Blackout seeks to alter the Eurocentric narrative that has defined the story of the artistic uses of the carousel slide projector to this day. Blackout is based on research conducted by Julian Ross from the Centre for Research and Education in Arts and Media (CREAM), University of Westminster, as part of his Leverhulme-Trust-funded Early Career Fellowship.
Magic Lantern Show: "The Frankenstein Phantasmagoria"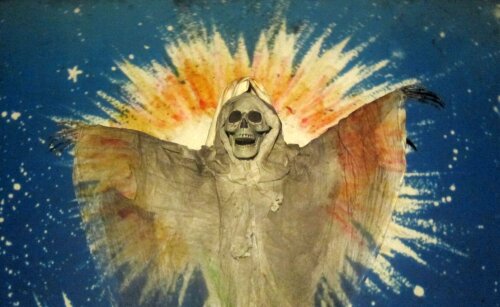 DATE: 5 April 2019, 19:00-20:00 | 21:00-22:00
VENUE: Greylight Projects, Rue Brialmont 11, Brussels
Entrance: fully booked
"The Frankenstein Phantasmagoria" is a unique experiment in media archaeology using original Victorian magic lanterns to evoke the sights and sounds of the ghost shows which thrilled audiences throughout Europe two hundred years ago. This specially created entertainment was commissioned by the Arts and Humanities Research Council of Great Britain as part of their 'Being Human' festival, to celebrate the publication of the novel 'Frankenstein; or, The Modern Prometheus' in 1818. It is inspired by the early experiences of Mary Shelley and the genesis of her most famous creation.
Renowned magic lanternists Jeremy and Carolyn Brooker will be joined by musicians Jules Arthur and Timothy Didymus. Their specially devised accompaniment will be performed live, featuring the eerie tones of the 'Kosmische Glass', a modern-day descendent of the glass armonica once favoured by Mozart and Beethoven and employed to great effect by the famous Belgian physicist and showman Étienne-Gaspard Robert in his phantasmagoria séances at the Convent des Capucines in Paris in 1799.
Book Launches, Film Screening "Divinations" and Media Archaeology Book Fair
DATE: 6 April 2019, 14:00 - 16:00
VENUE: Cinematek, Rue Baron Horta 9, Brussels
Entrance is free, no reservation needed
We proudly launch two new book publications combined with a screening of "Divinations", a new film by Sarah Vanagt, followed by a Q&A with the artist and authors and a media archaeology book fair.
Media Archaeology and Intermedial Performance: Deep Time of the Theatre edited by Nele Wynants (Palgrave Macmillan 2019) brings together a number of innovative contributions on various media and their histories. The authors revisit old, often forgotten media approaches and theatre technologies. In this book, archaeology does not necessarily refer to the discovery of a forgotten past than as the establishment of an active relationship between past and present. With chapters by B-magic members Edwin Carels, Sabine Lenk & Frank Kessler, Karel Vanhaesebrouck and Kurt Vanhoutte
Machines. Magie. Médias. edited by Frank Kessler, Jean-Marc Larrue and Giusy Pisano (Septentrion 2018) brings together a broad range of essays in Machines. Magie. Médias that showcase the results on the work conducted within the research network Les Arts trompeurs / Deceptive Arts. They explore the multiple relations between the performance of magic and the use of media technologies.
In Divinations, a new film by Sarah Vanagt, children from Brussels, Athens and Sarajevo sample impressions of these turbulent times with nothing but sticky tape and a magic lantern. Do all these shapes and images tell us something about the future? A production by Balthasar, co-produced by VAF, B-magic project (EOS ), VGC, Gsara Argos, Beursschouwburg and Kaaitheater, with the kind support of CBA and the M HKA that provided the magic lanterns.