DATE: 24 and 25 April 2021
TIME: 10h-18h (with a break between 13 and 14h)
VENUE: House of Mysteries, Jan Botermanstraat 2, 9000 Ghent
https://www.houseofmysteries.be/
Currently, all time slots are fully booked. You can sign up for the waiting list on the House of Mysteries website.
For your and our safety, Covid-19 restrictions will apply.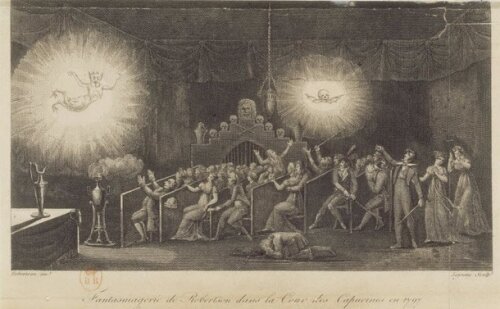 Do you believe in ghosts? Have you ever seen a reincarnation? Or a floating table? Witness it with your own eyes! More than 200 years ago, Belgian illusionist Robertson reanimated the dead with his phantasmagoria. Following in his footsteps, we will bring them back to life! Discover the wonders of the magic lantern, spiritualism and the extraordinary heritage of night-time hauntings...
Let yourself be carried away on an interactive journey of approximately 50 minutes along the ghosts and ghouls created by the magic lantern in House of Mysteries!
Demonstration of the magic lantern by Ditmar Bollaert (Spiegeltent - Ground floor)

Magic lantern collector and performer Ditmar Bollaert has followed in the footsteps of his father, Herman Bollaert, enchanting audiences with lantern demonstrations that include gliding devils and skeletons rising from their graves. You will discover the mechanisms behind these light projections and the techniques used for the illusion of movement.





Portrait Herman Bollaert © Roger Laute
Installation: Apparition of an Afterlife by Diederik Peeters (First floor)

Ventriloquist dummies are brought to life and ghosts are summoned with light and mirror reflections. Apparition of an Afterlife is an installation by media artist Diederik Peeters, who is inspired by nineteenth-century optical illusions. Become conflicted between belief and scepticism, between illusion and reality, between familiarity and estrangement...




Excerpt from the installation Afterlife © Diederik Peeters

​

Discoveries of spiritism with Nikolaas Martens (The attic - Second floor)

Have you ever seen a levitating table? Become familiar with spiritualistic phenomena such as ectoplasm, mediums, the Ouija Board, and apparitions.

This unique collection of spellbinding objects will bring you face to face with supernatural phenomena.





Medium Margery with an alleged materialized hand

© Stanley De Brath

Exhibition: Phantasmagoria museum (Ground floor)

The magic lantern and applications such as phantasmagoria have a fascinating history. Which optical illusions have sent shivers down the spines of numerous people? How was a lantern spectacle able to embody science and be fraudulent at the same time? Meet the famous Belgian Etienne-Gaspard Robertson (1763-1837) and Briton John Henry Pepper (1821-1900), among others. Be amazed by demons, lifelike busts, and seductive sea nymphs! Discover a fascination with ghosts and ghouls with the help of unique lantern slides, magic lanterns, and other peculiar objects.

The House of Mysteries collection will show you a number of optical illusions to offer a glimpse of how the deception is created with century-old techniques from magicians and illusionists. Be surprised and enchanted!




Picture of a Molteni marionette © Collection Visual Media

This is an initiative of House of Mysteries, Mystery Lab vzw, and the UAntwerp B-magic team.

With the support of Antwerp University, City Ghent, Erfgoeddag, and Showtex.