​Live Illustrated Magic Lantern Lecture: 'Van fantasmagoria tot propaganda' (From phantasmagoria to propaganda)
Date: 29 November 2022, 15h-17h
Location: Chapel of the Grauwzusters, Lange Sint-Annastraat 7, 2000 Antwerp - University of Antwerp city campus
In the second half of the nineteenth century, scientists and entertainers, teachers and priests, politicians and obscurantists enthusiastically appealed to the revolutionary medium of the magic lantern to inform, educate and entertain. It was not uncommon for them to gather audiences of over a thousand people.
Kurt Vanhoutte will give a broad introduction to the universe of the magic lantern in cooperation with collector and lanternist Ditmar Bollaert, who will bring out original glass slides and an authentic lantern for this special occasion. In this way, the audience will witness the double effect that the lantern exerted, both centuries ago and to this day, fusing instruction with spectacle, and science with entertainment.
Register here! As places are limited, registration will be closed once we reach maximum capacity.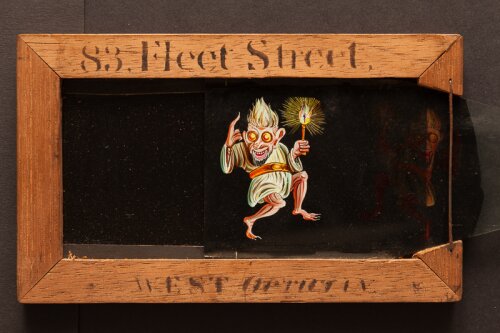 © Ditmar Bollaert