DATE: 24 and 25 April 2021
TIME: 10h-18h (with a break between 13 and 14h)
VENUE: House of Mysteries, Jan Botermanstraat 2, 9000 Ghent
Free entrance - Prior registration required through House of Mysteries. The link will be available on 5 April 2021.
You will be able to book admissions for a maximum of 5 people in one time slot. For your and our safety, Covid-19 restrictions will apply.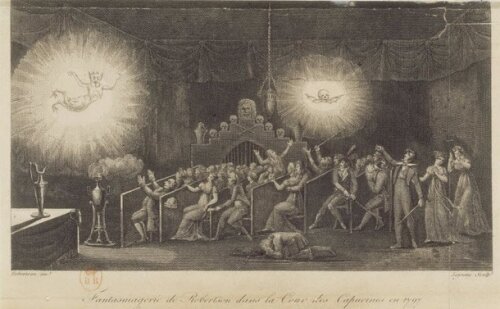 Do you believe in ghosts? Have you ever seen a reincarnation? Or a floating table? Witness it with your own eyes! More than 200 years ago, Belgian illusionist Robertson reanimated the dead with his phantasmagoria. Following in his footsteps, we will bring them back to life! Discover the wonders of the magic lantern, spiritualism and the extraordinary heritage of night-time hauntings...
Let yourself be carried away on an interactive journey of approximately 60 minutes along the ghosts and ghouls created by the magic lantern in House of Mysteries!
This is an initiative of Mystery Lab vzw and the UAntwerp B-magic team.

With the support of Antwerp University and City Ghent.