Are you stressing out? ​

Are you afraid that you won't be able to keep up with your studies?
Are you struggling with yourself?
Are you feeling down after a break-up?
Do you feel stuck?
Don't keep your worries to yourself! Take a look at the services offered by the student psychologists at the University of Antwerp.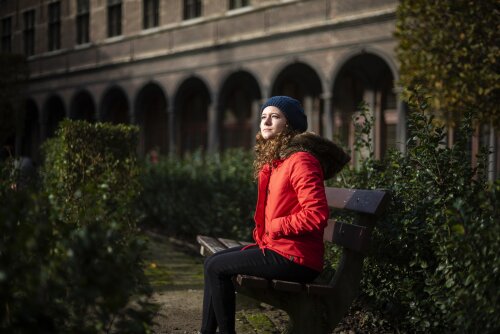 If you prefer to work autonomously and at your own pace, you can use:
one of the workbooks the student psychologists wrote (only in Dutch),

Moodspace, a place for students packed with reliable information, tips and self-help tools to tackle emotional problems or to help study confidently.
Would you rather receive help in person?  In small groups of students, the student psychologists organize tips & tricks sessions and workshops on various themes, both online and on campus (only in Dutch): dealing with stress, fear of failure or procrastination. Tips & tricks are single sessions that are mainly aimed at providing information. Workshops, on the other hand, take place several times in a small group of the same students, and besides informing, their main focus is on strengthening your skills. More details about the tips & tricks sessions and the workshops (only in Dutch) can be found in the student portal. Or contact STIP!
Do you have a specific question that requires a customized approach?  Then make an appointment for individual counseling, online or on campus. In an intake will be explored which guidance is best suited to your question. You can be referred to (online) self-help tools and targeted coaching packages, group sessions, individual guidance or support is sought outside the university.

In the student portal you will find all information about the full range under 'Support & Coaching'. From January 2023, a contribution of 11 euros per session will be requested for individual psychological counselling, 4 euros for those who benefit from increased compensation. This sum is in accordance with the sum you pay to a conventioned clinical psychologist or orthopedagogue outside university. This payment system allows us to continue to provide professional care to all students. All other support e.g. individual study coaching, tips & tools, group sessions, ... remains free! Individual psychological counselling is possible in English.
In need for urgent psychological help?

If you need urgent psychological help and for some reason you cannot reach a student psychologist (weekend, closing day, …), you can contact your GP or the GP on call. You can reach the general practitioners and pharmacists on call at 0900 10 512.
Where else can I go?

General well being

Alcohol en drugs

Psychiatric problems

Mourning

Eating disorder

Relations and sexuality

Depression