Screen4PN: an iPSC Testing platform for efficient evaluation of compounds for Charcot-Marie-Tooth (CMT) neuropathies
SCREEN4PN is an iPSC based screening platform offering efficient development and testing of new therapeutic compounds for CMT disease and other related neuromuscular and neurodegenerative disorders. Its simplified workflow and fast turnaround time benefits the pharma industry and CRO's in evaluating therapies and biomarkers in a relevant, predictive, accurate and reproducible platform.

Situation before
Over 2,8 million people suffer from CMT neuropathy, but most therapeutic studies are in a laboratory or pre-clinical phase, with only one clinical study reaching phase III for the most common form (CMT1A). With over 1500 mutations in over 100 different genes, creating a mouse model for every genotype is impossible and in studies where mouse models are used, variability is high and the time to result is more than one year.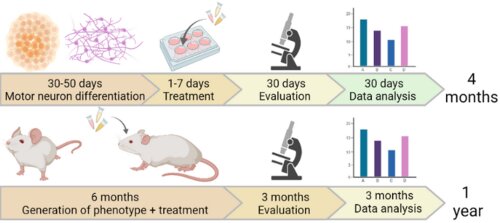 Technology
SCREEN4PN is an induced pluripotent stem cell (iPSC) testing platform developed at the University of Antwerp to efficiently test new therapeutic compounds for neuromuscular and neurodegenerative disorders. The current SCREEN4PN platform makes use of iPSCs derived from CMT2 patients with different causal mutations which are differentiated into 2D peripheral motor neurons or 3D neuro-muscular organoids using a proprietary protocol and pheno-typed to discover pathological symptoms shared among the different genotypes. SCREEN4PN then evaluates the effect of therapeutics on these shared pathological symptoms using dedicated screening methods. The SCREEN4PN can also be applied to other peripheral neuropathies and neuromuscular disorders.
The SCREEN4PN platform significantly shortens the testing process for drug candidates and biomarkers, taking only four months compared to over one year testing in animal models and reduces the cost of screening per molecule by a factor of 5. On top, the SCREEN4PN platform shows a significant decrease in experimental variability compared to animal model screening.

The main benefits of the SCREEN4PN platform are the standardization, reproducibility, the fact that it is based on human cells, and the faster turnaround, with reduced costs.
The current platform is suitable for testing compounds on CMT2, the axonal form of CMT. We are currently expanding the platform to other peripheral neuropathies and will improve its resemblance of human physiological complexity by introducing co-cultures and 3D organoids.
Partners we search for
The SCREEN4PN platform is open to commercial and academic partners interested in the development of CMT therapeutics, but we also offer our platform for treatment of other neuromuscular disorders.
About the researchers - research group
Prof. Vincent Timmerman supervises the Peripheral Neuropathy Research Group and is a pioneer in identifying disease causing genes and molecular mechanisms for CMT disease. By use of patient-derived iPSCs from which neuronal cells can differentiate, the team studies the functional consequences of mutations to unravel disease mechanisms and develop novel therapeutic strategies. His team is part of the µNEURO Center of Excellence and the iMARK valorization consortium at the University of Antwerp.
More information
University of Antwerp
Valorisation Office
Middelheimlaan 1
2020 Antwerpen
Phone: +32 3 265 88 69
valorisatie@uantwerpen.be