Interprofessional collaboration in the first line
Spearhead Research Public Health and Primary Care

Why

One of the 6 spearhead areas of research in the faculty of Medicine and Health Sciences of the University of Antwerp (UA) is Public Health and Primary Care. This enables the UA researchers to address the health-related challenges of their time and place. Challenge and opportunities include urbanization, diversification of the population, how to address the needs of vulnerable groups, technical innovations, interprofessional and transmural care. We work to understand the challenges and changes, and to develop relevant answers with and for the people in our environment. And to contribute to new knowledge and broader partnerships in academia and in society, for sustainable and larger-scale impact.
Who
Departments leading the spearhead research are:
Department of Family Medicine and Population Health
Collaborative Antwerp Psychiatric Research Institute
Rehabilitation sciences and physiotherapy
Nursing and Midwifery Sciences
The research also involves collaborations with other groups in and outside the University, such as the faculty of sociology, pharmacology and the Primary Care Academy.
What
The overarching research theme is Organisation and Quality of integrated (health) Care. We use a range of research methods, qualitative and quantitative. A teaser out of the ongoing research projects and themes is listed.
The spotlight on: interprofessional collaboration in primary care
An interdisciplinary or interprofessional care team exchanges information, ideas and recommendations between the various care and welfare providers. In consultation with each other and the person with a support need, they develop a common vision and a goal-oriented care plan. The relationships between the disciplines form a coordinated and coherent whole. Interprofessional cooperation is an interpersonal process that requires willingness to cooperate, communication, mutual trust and respect. Based upon the five building bricks for interprofessional collaboration projects (practice, research and education) the existing and future projects can be listed. Within the spearhead Public Health, researchers from different backgrounds have built-up expertise in interprofessional collaborations in the first line. These collaborations involved a large set of health and welfare professionals working together to provide optimal care for diverse acute and chronic pathologies, set up target group tailored preventive interventions and develop interprofessional work systems .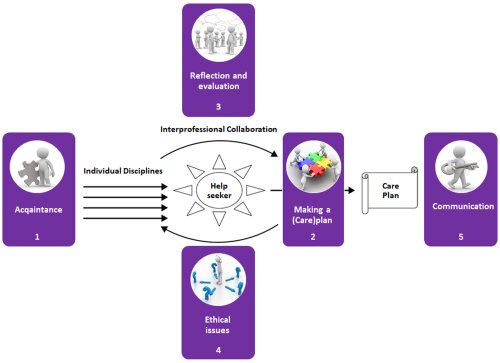 Below you can find a teaser list of current projects related to this theme:
· Provincie Antwerpen Leersoel Zorgberoepen in Evolutie (PAZOE) aims to strengthen the health workforce capacity in the Belgium health care system through learning from innovations through interprofessional collaboration
· Zipsteris a digital referal platform that helps health care providers to refer patients to local welfare actors
· Netwoking tables developed a collaboration method to support child welfare practitioners through co-creation with parents and children, which is been used through Flanders.
· PECan developed an app to educate and support people after breast cancer treatment in managing pain
· Primary Care Academy is an education and research network supports targeted care, self-care and interdisciplinary collaboration
· SPICES implements and evaluates comprehensive cardiovascular diseases (CVD) prevention program built upon collaboration between different professionals and community.
· The ZORO training is developed to offer care professionals competences in interprofessional collaboration, technological agility, intrapreneurship and ethical conduct
· The Pelvic Floor is an online platform that offers low-treshold information on pelvic floor problems to mothers