Donderdag 16 november 2017 van 19.00 tot 21.00 uur
Hof van Liere, Prinsstraat 13
2000 Antwerpen
In dit avondvullend programma rond het thema Joodse muziek bieden we u twee publieke lezingen, aangevuld met talrijke muziekfragmenten. De avond zal verder twee boekpresentaties omvatten, The Persistence of Voice: Instrumental Music and Romantic Orality van John Neubauer (Brill, 2017) en Judaism in Opera – Judentum in der Oper van Isolde Schmid-Reiter en Aviel Cahn, eds. (ConBrio, 2017). De avond zal afgesloten worden met een receptie.
Deelname is gratis.
Inschrijven, klik hier.
Book presentation: The Persistence of Voice: Instrumental Music and Romantic Orality (Brill Publishers, 2017)
With a presentation by Ursula Neubauer
This work,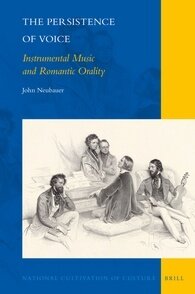 completed by Neubauer on the very eve of his death in 2015, complements both his benchmark The Emancipation of Music from Language (Yale UP, 1986) and his History of the Literary Cultures of East-Central Europe (John Benjamins, 2004-10). It thematizes Romantic interest in oral speech, its poetical usage in music and musical discourse, and its political usage in the national-communitarian cult of the vernacular community. Subtly and with great erudition, Neubauer traces in different genres and fields the many transnational cross-currents around Romantic cultural criticism and writings on music and language, offering not only fresh analytical insights but also a rich account of the interaction between Romantic aesthetics and cultural nationalism.
John Neubauer (Budapest 1933 – Amsterdam 2015) was Professor of Comparative Literature at the University of Amsterdam. Among his works are The Emancipation of Music from Language (1986), The Fin-de-siècle Culture of Adolescence (1992) and the four-volume History of the Literary Cultures of East-Central Europe (4 vols., ed. w. M. Cornis-Pope, 2004-10).
Public lecture: The Hebrew Melodies by the Composer Isaac Nathan and Lord Byron as "poet laureate of the synagogue"
Dr. Sabine Lichtenstein (Universiteit van Amsterdam)
In 1814 a collection of songs – the Hebrew Melodies – appeared on the market. The collection was a great success, and subsequent editions and several German translations were made. However, many people were shocked at the first edition, as it consisted of "authentic", old synagogual melodies. These had been collected by the musician Isaac Nathan, who added piano accompaniment as well as new "proto-Zionistic" texts by Lord Byron. Many famous composers had put the poems to their own music, but only one, the German Romantic composer Max Bruch, arranged one of the harmonized hymns, once with and once without the text. Lichtenstein's lecture will discuss the collaboration between Byron and Nathan, Bruch's arrangements, and the gifted, impressively imaginative and remarkably resilient Isaac Nathan, who later brought classical music to Australia and composed the first Australian opera.

Book presentation: Judaism in Opera – Judentum in der Oper (Schriften der Europäischen Musiktheater-Akademie, Band 11 – ConBrio, 2017)
Book presentation by Aviel Cahn (co-editor)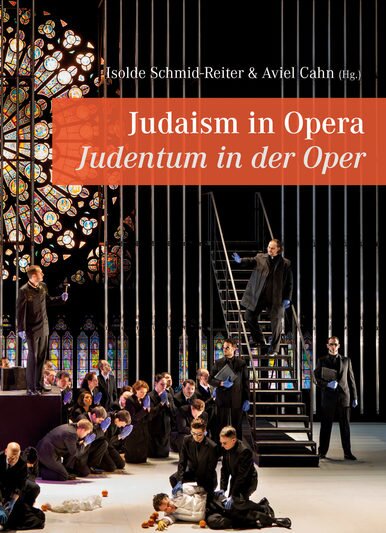 This volume focuses on the enriching influence and the creative force of Jewish culture and Jewish artists in opera. Any approach to the sensitive and multifaceted theme of 'Jewishness' must be undertaken from a very broad perspective. The idea is to reflect upon religion, history and tradition, while discussing and examining perceptions of Jewishness. This publication makes an effort to cover the widest possible spectrum, in order to meet the challenge of this complex task. Entirely in keeping with the mandate of the European Academy of Music Theatre as a forum for dialogue between research and practice, it comprises articles by international scholars and artists, such as composers, directors, opera singers, cantors, artistic directors of opera houses and critics from Europe, Israel and the USA. This ensures many different perspectives, in view of the very broad scope of the theme.
Public lecture: Ozi v'zimrat Yah – The Importance of Music in the Jewish Bible
Dr. Jean Goldenbaum (EZJM Hannover)
Music and sound are mentioned more than 250 times in the Tanakh, the Jewish Bible (also known as the Old Testament). In this lecture Jean Goldenbaum will explain the importance of music for the ancient Israelites and, as a consequence, for Jews today. He will discuss what musical instruments were like during biblical times, and when and where they were played, as well as the role of singing and dancing. He will also examine how music may have sounded at that time, in terms of timbre, sonority, and tuning. Citing passages from the liturgical texts, he will illustrate how music and sound were present not only in religious but also in different cultural, social, and communitarian aspects of ancient Jewish life.
E-flyer

Klik hier om de uitgebreide e-flyer te lezen.