Centuries-old paintings, such as Adoration of the Mystic Lamb by Van Eyck, Sunflowers by Van Gogh, The Night Watch by Rembrandt and Girl with a Pearl Earring by Vermeer are usually well known among the general public. Tracing the painting materials and techniques used for these iconic works, however, often proves not to be so easy. Fortunately, there is chemical imaging equipment available to study these paintings and help unravel the mystery of their creation.
Scanners for art research
The University of Antwerp is among the world leaders in the development of new scanners for art research. These sophisticated instruments are ground-breaking in that they allow to look at the work of art through a pair of chemical glasses. Watch this National Geographic documentary for more details: https://youtu.be/doJf0ALH9MU
Measurements carried out on Vermeer's Girl with a Pearl Earring already provided a great deal of valuable information about this painting. We learned for instance more about the crystalline structures in paint and how materials chemically change throughout time, such as paint discoloration or other conservation problems. This allows us to look over the artist's shoulder, so to speak, which can be of crucial importance for attribution and dating as well as for the restoration and conservation of art works.
Learn more about these measurements in this video: https://youtu.be/Hv8Z1iOON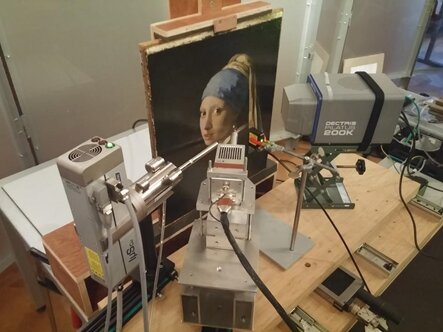 Helping the research: development of new scanners
Another well-known example is Van Eyck's The Mystic Lamb: the Macro X-Ray Fluorescence (MA-XRF) scanner scientifically demonstrated that Van Eyck's original composition was hidden under later overpaintings and was still in good condition. This discovery was the decisive factor in bringing Van Eyck's unparalleled brushwork back to light after almost 500 years. Scans were also carried out on Van Eyck's Portrait of Margareta Van Eyck: https://youtu.be/k5Ew1aFrTE8. These scanners are developed and built with the most advanced electronic components that are usually only used in leading scientific equipment such as particle accelerators.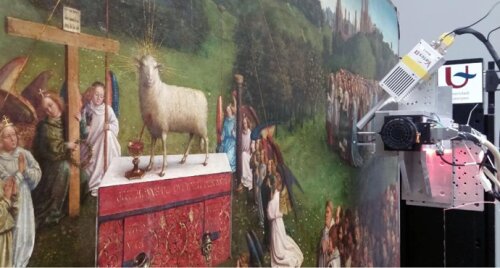 Your contribution helps in the development of new instruments and their application in museums.
Would you like to support our project? Here is how you can contribute.

Tax reduction
Did you know that donations of 40 euros or more are 45% tax deductible? We will provide you with a tax certificate.
Step 1 - Payment
There are two ways to donate:
· By wire transfer into bank account number BE42 7310 4624 7854 in the name of 'Universiteit Antwerpen'. Be sure to mention 'fiscaal attest' and your preferred destination as a reference, in this case 'The Secrets behind Paintings'.
· By online paymentwhere you can immediately indicate your preferred destination.
Step 2 - Donation form
In order to allocate your donation correctly, we advise you to also send us the donation form on which you can indicate your destination preference again, in this case: 'The Secrets behind Paintings'.
Send the completed form:
· electronically to universiteitsfonds@uantwerpen.be (a scan or picture are sufficient)
OR
· by mail to Universiteitsfonds Antwerpen - Middelheimlaan 1 - 2020 Antwerpen