Measuring air pollution with a buggy? That's possible with CLAIRE!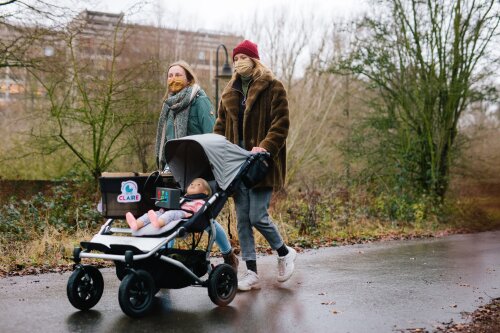 CLAIRE stands for Clean AIR for Everyone and is the new citizen science project of UAntwerpen. The project aims to map the effect of slow roads and green elements on local air quality. This is done by walking around with a buggy full of measuring equipment in Mortsel and Wilrijk (Antwerp). In this project, the concentrations of particulate matter, ultra-fine particles and soot are seen as the most important indicators for air pollution. The CLAIRE project already has two mascots: Claire and Gilbair. Each of these dolls has its own measuring buggy and its own walking route. Already 400 enthusiastic volunteers signed up to temporarily take care of Claire or Gilbair as a caring (grand) parent and to go for a walk with him or her.

Health impact of air pollution with young children
Good air quality is of course important for every citizen. However, the CLAIRE project focuses specifically on mapping the exposure of young children to traffic-related pollution.This highly vulnerable group - represented in this project by our adorable toddler dolls Claire and Gilbair - is often closest to the pollution source, namely the exhaust pipes of cars. Previous research has already shown that the pollution at this altitude is higher than at the respiratory height of an adult. With this project we hope to map the exposure to traffic-related pollution for babies and toddlers in concrete terms.
Want to know more? Be sure to take a look at the website.
On May 2, 2022, the closing event of the CLAIRE project took place where the results were shared. Couldn't attend or want to relive the closing event? Then be sure to take a look at the website.

Do you want to support the CLAIRE project? Here's how you can contribute:
You can contribute as a company or as a private individual. For this we have developed a number of support packages, depending on your budget and your wishes. Discover the CLAIRE support packages. You can finance these support packages through a donation with a tax benefit.
Make a donation and follow the steps below. By the way, did you know that you are entitled to a tax reduction of 45% for donations from 40 euros? We will provide you with a tax certificate for this. An extra incentive to give 'CLAIRE' maximum support.
Step 1 - Donation

There are two ways to donate:
By bank transfer to bank account number BE42 7310 4624 7854 in the name of 'Universiteit Antwerpen'. Be sure to mention 'fiscaal attest' (tax certificate) and your preferred destination, in this case 'CLAIRE', in the communication field.
By online payment where you can immediately indicate your preferred destination by selecting 'other' under 'Choose your project'. Afterwards you will be given the opportunity to fill in the project 'CLAIRE' manually.
Step 2 - Donation form
In order to allocate your donation correctly, we recommend you to also send us the donation form where you indicate your preference for the destination of the amount again.
The completed form can be posted to Universiteitsfonds Antwerpen - Middelheimlaan 1 M.A.223 - 2020 Antwerpen, or you can simply scan or even photograph it, and email it to universiteitsfonds@uantwerpen.be. This way, the University Fund can allocate your donation correctly.