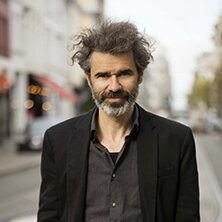 Raf is an urbanist and currently a PhD-candidate at the Research Group for Urban Development at the University of Antwerp in Belgium. He holds a Master of Urbanism and Spatial Planning and a Master of Civil Engineering Technology. His doctoral research focusses on a photographic analysis of the city and on the juxtaposition of visual data in a photographic narrative (i.e. a visual dialectic) for elaborating (re)design strategies for 'network deserts', as a part of the urban network space.


In 2017 he was awarded with the Bouwmeester Label 2017-18 by the Flemish Government Architect, for his research proposal 'Adaptive reuse of underground car parks'. During the past three academic years, Raf has also supervised, together with Maarten Van Acker, the course research for Master students in Architecture, at the University of Antwerp.
Favorite (place in the) city
On the road! As an ardent bicycle traveller through Europe, recently discovering Hermann Herter's tram station Bellevue-Rondell in Zürich, though just a modest pavilion, made a very strong impression. Also cycling to Walfriedhof, Ernst Ludwig Kirchner's graveyard in Davos, turned out to be a genuine feast for the senses! Or in a more absurd way, 'Tativille' would be a good choice!