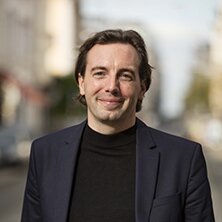 Maarten is Professor of Urban Design at the Faculty of Design Sciences at the University of Antwerp and spokesperson for the Research Group for Urban Development. His research focuses on the interface between urban design and infrastructure design.During his PhD he studied the impact of mobility infrastructure on the urbanization of Belgium since the 19th century. Afterwards Maarten continued his research on urban (infra) structures in New York at Parsons - The New School for Design.
Maarten regularly supports city councils, design and engineering firms with complex projects. He is a member of the GECORO Antwerp, UNESCO city council of Bruges, the scientific committee of the Institut pour la Ville and Mouvement (Paris), the editorial board of RUIMTE, the Spilliaert Committee (chairman) and StadsAtelier of the city of Ostend.
Favorite (place in the) city: New York
Carl Schurz Park. It was my favorite place to go jogging or for a walk with my newborn daughter when I lived in the Upper East Side. It is a quiet neighborhood park, built on the roof of the FDR highway. Together with an ice-cream in hand, the East River winds gave welcome cooling during those typical hot summer months, you can have a picnic in the grass next to Gracie Mansion and the little ones can have fun on the playground.

Maarten Van Acker
Spokesman