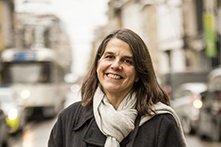 Marleen Goethals is scientific fellow at Antwerp University and lecturer in the design studio of the Master Urban Design and Spatial Planning. Until 2013 she has worked as a designer in several architectural and urban design firms. As project leader she has worked on several projects on urban and landscape design, and worked as a coach for urban renewal projects for the Flemish Urban Policy.
She performs research into potential roles for designers in co-evolutionary planning processes and in socially inclusive city-making.
Favorite (place in the) city
The NOVA Cultural Meeting Center in Kiel Antwerp was the base of my team during the design research for the Capping of the Ring (September '17-May '18). This modernist Scandinavian-looking building opposite the Kiel blocks of Braem is one of the most generous public meeting places in the city. The halls and foyer are used daily by diverse social groups of Antwerp residents with Belgian and foreign origins. A multicultural team of employees assisted by dedicated volunteers is responsible for the management.