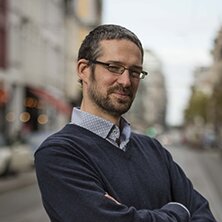 Thomas Vanoutrive is Lecturer at the Research Group for Urban Development, Faculty of Design Sciences, University of Antwerp and was previously a researcher at the Department of Transport and Regional Economics, UAntwerp, and the Department of Geography, Ghent University. He is also a member of the Urban Studies Institute. He holds a joint Ph.D. in Applied Economics (UAntwerp) and Geography (Ghent University).
His research focuses on transport policy and planning, including mobility management policies, sustainable mobility planning, and workplace travel plans.
Favorite (place in the) city
"Which is your favourite city?" is not only a question of place, but also a matter of time. For example, Paris in 1871 was a different city than Paris today. Nevertheless, if I have to choose one city, I would go for the self-declared capital of geography, Saint-Dié-des-Vosges.