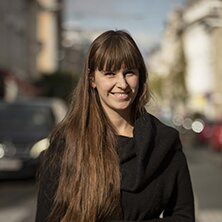 Shana is an urban planner, communication scientist, PhD researcher, Flemish policy officer and fascinated by underground urbanism. She has a master in communication sciences (2009), master in Urbanism and spatial planning (2013).
Since November 2014 she's a Flemish policy officer and project manager with the department of Environment and Spatial Planning of the Flemish Government.
The intention of her project is to integrate the underground dimension into planning, policy and design.
Favorite (place in the) city
Ostend - the shore break. I love the exact place where the waves smash into the beach. That's where the line of demarcation is between the raw vertical chaotic urbanism of Ostend and the endless horizontalness of the sea.