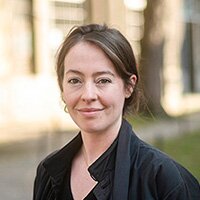 Tara holds a degree in architectural engineering (2013, KULeuven) and urban planning (2017, UAntwerpen), she has worked as an urban planner and designer in various offices, for the department of Environment and Spatial Planning of the Flemish Government, and was a teaching assistant at UGent. Tara is currently a PhD-candidate at the Research Group for Urban Development, where her research is part of the InnoFiNs-project. Together with a multi-disciplinary team she is researching methods of alternative financing for nature-based solutions. More specifically the InnoFiNs team is looking at land value capture, impact financing and crowdfunding through initial coin offerings.
The objective of her PhD is to introduce methods of alternative financing within planning, policy and design of nature-based solutions. The research is action oriented, as methods will be developed and tested in four Urban Living Labs (Antwerp, Genk, Kortrijk, Turnhout).

​Visit the personal page of Tara Op de Beeck
Favorite (place in the) city
Copenhagen, where I fell in love with their outdoor urban culture, from drinks on a café terrace in the winter, to all the different swimming opportunities or strolling through one of the beautiful cemetery parks... Copenhageners really know how to use their public space.