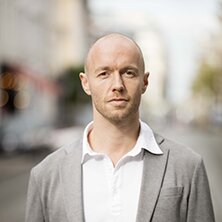 To what extent does our urban environment influence our use of it? How do we change our environment by our use? David Dooghe is fascinated by these questions, and is constantly searching for the underlying principles between space and use, this in order to optimise interactions between people and their urban environment.
Dooghe studied architecture (Gent), interior design (Eeklo), and urban design (Rotterdam and Cottbus). He has taught at Sint-Lucas (Gent/ Brussels) and the Rotterdamse Academie van Bouwkunst.
He is a part-time PhD researcher in urban development at the UA. His PHD research is a co-operation with Deltametropolis Association (Rotterdam) and, in short, focuses on the shifts in the urban development of midsize European metropolitan regions since the financial and economic crises of 2008.
Favorite (place in the) city
My favourite city is Tel Aviv, due to the amazing Bauhaus architecture you can find there, the combination of a good urban density and sufficient green spaces, the (for an outsider) seemingly easily mingling of different cultures in the street and the fact that urban life continuous in the public space during night time.