Nathan De Feyter graduated in 2017 as a Master in Architecture at the University of Antwerp. After this, he successfully completed the Master-after-master program 'Human Settlements' at the KU Leuven. Triggered by the methodology of research by design, from 2018 to 2021 Nathan worked for the Antwerp architecture and research firm RE-ST.
Since the academic year '21-'22, Nathan has been appointed full-time as a mandate assistant at the Faculty of Design Sciences of the University of Antwerp, where he combines doctoral research (50%) and architectural education (50%).
His research focuses on (non-)building culture, inclusion, super-diversity, tangible and intangible heritage, and its impact on space and the built environment.
Favourite (interior) architecture project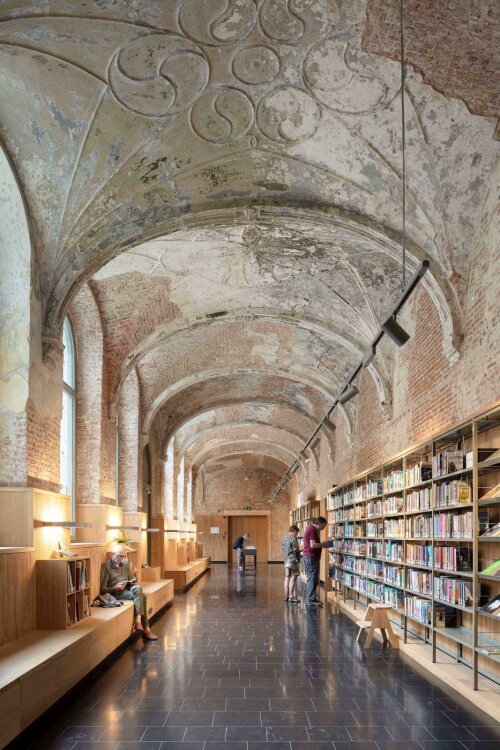 City Library Het Predikheren, Goswin de Stassartstraat 88, 2800 MechelenAfter forty years of vacancy, Korteknie Stuhlmacher (in collaboration with Callebaut Architecten and Bureau Bouwtechniek) was appointed through the Open Call procedure for the restoration and repurposing of the Predikherenklooster in Mechelen. The team chose not to restore the monastery to its original state, but to show the beauty of its decay. This leads to a complex and layered attractive whole with architectural and educational added value. I see the project as an inclusive cultural oasis, as a practical example of how material heritage can be a motor for sustainable development, rather than a hindrance.

Campus Mutsaard, H.1.1. Mutsaardstraat 31 - 2000 Antwerpen - België
nathan.defeyter@uantwerpen.be