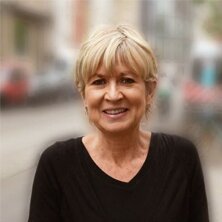 Sigrid is a lawyer, she defended her PhD at the University of Antwerp on a comparative education law topic (Belgium – United States). From 2010 till 2012 she was attached as a senior policy advisor/lawyer to the Dutch – Flemish Accreditation Organization in The Hague (The Netherlands). Currently she teaches and focuses on legal fields related to urban design.
In 2014 she set up the 'Metropolitan Legal lab" (MLL), together with her colleague Esther van Zimmeren (PhD, Law, associate professor, research group Governance & Law). MLL is an open and interdisciplinary research platform, relying on collaboration between the Faculty of Law and the Faculty of Design Sciences at the University of Antwerp, focusing on innovative legal questions that arise in the context of urban, metropolitan design
Favorite (place in the) city
My favorite spot is the "Stadswaag" in Antwerp. It's a small square in the historical part of the city, that ties the university neighborhood to the "Schipperskwartier". Old and new "Antwerpenaren" are living together over here, the square is like a "common garden"; motorized traffic is discouraged spontaneously. It is where I live and work, learned my son to ride his bicycle and spend time with neighbors and friends.