Lecture Prof. Ana Vaz Milheiro
Public Space and Massive Housing in Portugal
20 April 2022 / 19:00
Stadscampus Mutsaard - Aula Dieperik (s.MU.K1.6)
Speaker: Prof. dr. Ana Vaz Milheiro - Lisbon University
With as respondent: arch. Maarten Lambrechts - Universiteit Antwerpen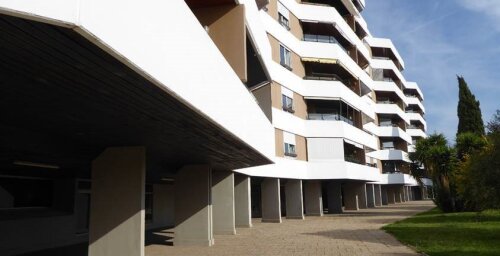 In the early 1960s, Portugal, which was living under a dictatorship, witnessed a surge of urbanization, industrial growth and 'demographic modernization'. On the other hand, it preserved a colonial empire, mainly in sub-Saharan Africa, where in 1961 three war fronts broke out for the independence of the five overseas territories under Portuguese rule, lasting until the decolonization after the Carnation Revolution. Presenting itself to the world as a 'multicontinental' nation in the aftermath of World War II, with its back turned on Europe, intending to keep its colonial statute, what urban expression was the country capable of promoting? Part of the answer lies naturally in scrutinizing the residential landscapes that were erected in the Estado Novo era, and in accessing the contribution of the main agents in tackling the housing shortage.
The presentation will start with a first experience of the Lisbon born architect Fernando Silva who in 1951 designed a set of residential buildings for CUF (Companhia União Fabril) that should have produced a new neighbourhood within the parameters of the modern City, in Barreiro, an industrial small town on the south bank of the river Tagus. This first experience would be the basis for the housing projects that this architect produced until the 1970s, immediately after the April Revolution, which restored a democratic regime in Portugal, putting an end to the colonial empire. Fernando Silva is discussed here as having been able to consolidate a residential standard for the middle class living in the Lisbon suburbs at the time.
The presentation is extended with other achievements in the former colonial territories (in this case Luanda in Angola and Macao in China) in order to exemplify the approach of Portuguese architects not only in Europe but beyond Europe.
About Prof. dr. Ana Vaz Milheiro - Lisbon University

Ana Vaz Milheiro is Assistant Professor with Aggregation at the Faculty of Architecture at Lisbon University. She is also an associate researcher at DINÂMIA'CET-IUL (Centre for Socioeconomic and Territorial Studies) and researcher at African Studies Center (University of Porto). She received her PhD (2004) in Architecture and Urbanism from the University of São Paulo, Brazil.
The research projects she supervises focus on architecture and urban planning in former Portuguese colonial African countries and middle-class housing, financed by the Foundation for Science and Technology, including the ongoing project 'Middle-Class Mass Housing …' and more recently 'Dominance and mass-violence through Housing and Architecture during colonial wars…'.
Recently, she was a former IIAS Fellow (Hebrew University of Jerusalem), research group 'Re-Theorizing Housing …'(2019-20). Currently, she chairs the Cost Action CA18137 'European Middle-Class Mass Housing' (2019-23), supported by the EU Framework Programme Horizon 2020. She was an art and architecture critic and received an essayist prize by the Portuguese Section of AICA/ Fundação Carmona e Costa (2013) with 'Nos Trópicos sem Le Corbusier – Arquitectura Luso-Africana no Estado Novo' (2012).